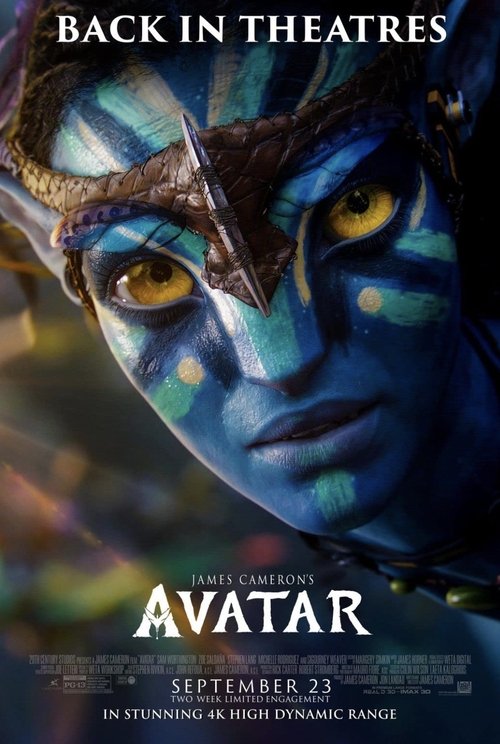 Showtimes
Selected Date
IMAX
Select a date to reserve your tickets.
Today1/26
Fri1/27
Sat1/28
cal
Details
Release Date: September 21, 2022
Genres: Science Fiction
Director: James Cameron
Storyline
Avatar took the world by storm when it first hit theaters in 2009. Writer, director, and executive producer James Cameron took audiences to the distant moon of Pandora in the year 2154, and introduced them to visuals, graphics, and special effects that created unforgettable experiences. This groundbreaking movie shattered box office numbers, becoming the highest-grossing, most successful movie of all time. On September 23, 2022, Avatar brings the bioluminescent moon back to the big screen, taking new and returning fans on a vibrant and epic Pandoran adventure.
Cast View More
Sam Worthington

Jake Sully

Zoe Saldaña

Neytiri

Sigourney Weaver

Dr Grace Augustine

Michelle Rodriguez

Trudy Chacón

Stephen Lang

Colonel Miles Quaritch

Giovanni Ribisi

Parker Selfridge

Joel David Moore

Norm Spellman

CCH Pounder

Mo'at

Wes Studi

Eytukan
Movie details and information powered by TMDb.
This site uses the TMDb API but is not endorsed or certified by TMDb.